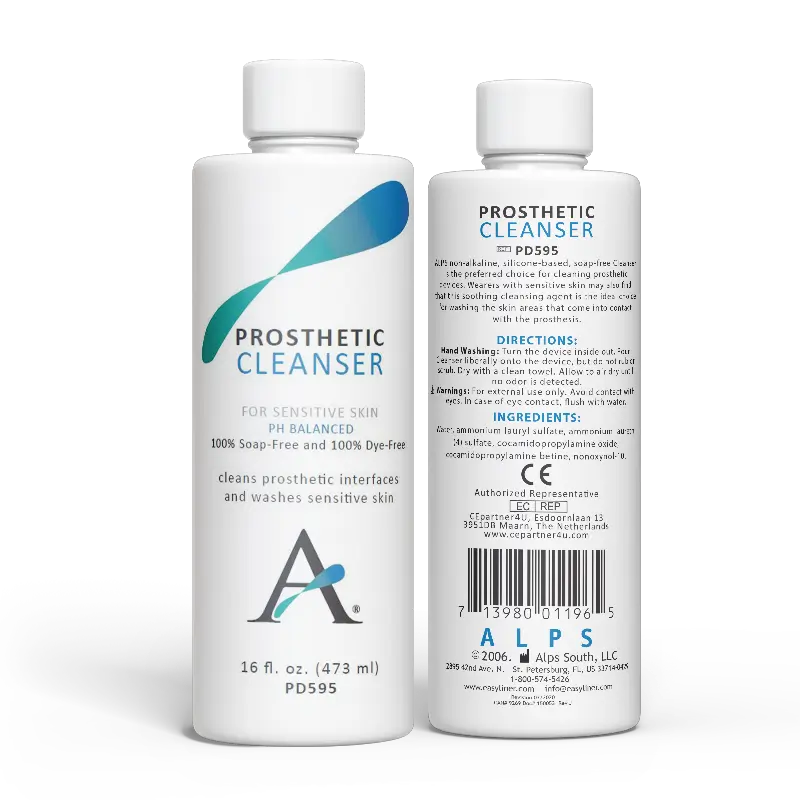 ALPS® Prosthetic Cleanser
PART # PD595
ALPS Prosthetic Cleanser is a non-alkaline, soap-free cleansing agent designed to help remove dirt and excess perspiration from prosthetic liners and sleeves.
Its unique formula allows it to work efficiently with hand washing or machine wash settings to effectively clean and restore items back to their original state.
Developed to remove dirt and excess sweat from prosthetic liners and sleeves, either by hand or in the washing machine. It is recommended for use with all liners.
.
Suitable for sensitive skin: thanks to its delicate formula it can also be applied to the areas of the skin that come into contact with the prosthesis.
Without soap or dyes: 100% free of soaps and dyes that could be aggressive.
Balanced ph: the non-alkaline silicone-based formula soothes the skin and does not damage the liner.
| PRODUCT NUMBER | AMOUNT | QUANTITY |
| --- | --- | --- |
| PD595 | 16 OZ | x1 |
| PD595 BX12 | 16 OZ | BOX OF 12 |
Want to know more?
Our specialists will be happy to answer all of your questions.
Subscribe to our newsletter.
Receive info about products, tutorials and new product releases.
---