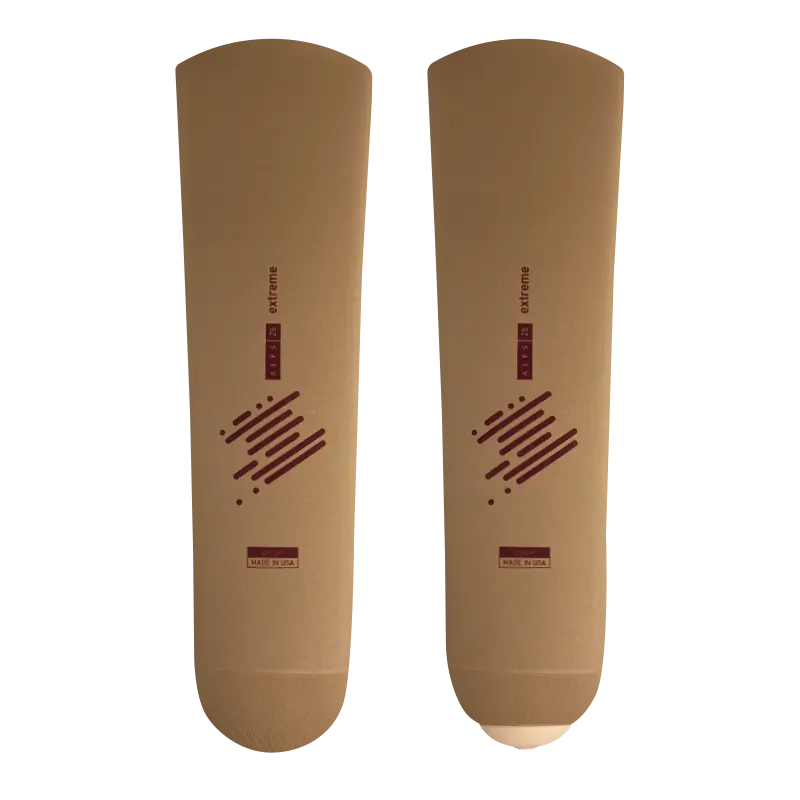 ALPS Extreme™ Liner HD Gel
PART # AKDTHD/AKFRHD
ALPS Extreme HD is a prosthetic liner made of High-Density Gel that provides a high level of comfort and superior protection of the residual limb, even for more active users.
It is indicated for patients with medium and high activity levels as it offers a high level of control while preserving comfort. It is also recommended for patients whose residual limbs have excessive soft tissue and transfemoral amputees.
ALPS Extreme prosthetic liner, in its HD Gel version, provides the patient with comfort and control.
---
The fabric, with its limited vertical elongation, further limits vertical pistoning.
---
The HD Gel relieves the residual limb from vertical and shear forces; at the same time, it makes the liner more compact.
---
This makes it an ideal liner for the most active users who are looking to maintain maximum control of the prosthetic leg without compromising comfort.
Reduces pistoning thanks to the fabric's limited vertical stretch and the distal matrix (locking version).
Minimizes the movement of soft tissue and provides a high level of control of the prosthetic leg by combining the properties of the High Density Gel with those of the limited vertical stretch fabric.
Protects the residual limb thanks to the high capacity of the HD Gel to absorb vertical and shear forces.

MATERIAL | HIGH DENSITY GEL
The relatively firm nature of the HD Gel combines comfort with control and stability. Best for use on highly active patients or those who are transitioning from a silicone liner to a gel liner.
AMPUTATION LEVEL
Above-Knee (AK) and Below-Knee (BK)
ACTIVITY LEVEL
Recommended for K1-K4 activity levels.

THICKNESS
3mm or 6mm Uniform

SUSPENSION
Cushion | Locking (Reinforced Matrix)

FABRIC | BROWN
Brown fabric with reduced vertical stretch.

Extreme Liner AKDTHD/AKFRHD Sizing Chart
Measure the circumference of the stump at 6 cm above the distal end.
| MEASURED SIZE (CM) | LOCKING 3MM OR 6MM UNIFORM | CUSHION 3MM OR 6MM UNIFORM |
| --- | --- | --- |
| 16-19 cm | AKDTHD16-(3 or 6) | AKFRHD16-(3 or 6) |
| 20-23 cm | AKDTHD20-(3 or 6) | AKFRHD20-(3 or 6) |
| 24-25 cm | AKDTHD24-(3 or 6) | AKFRHD24-(3 or 6) |
| 26-27 cm | AKDTHD26-(3 or 6) | AKFRHD26-(3 or 6) |
| 28-31 cm | AKDTHD28-(3 or 6) | AKFRHD28-(3 or 6) |
| 32-37 cm | AKDTHD32-(3 or 6) | AKFRHD32-(3 or 6) |
| 38-43 cm | AKDTHD38-(3 or 6) | AKFRHD38-(3 or 6) |
| 44-53 cm | AKDTHD44-(3 or 6) | AKFRHD44-(3 or 6) |
Want to know more?
Our specialists will be happy to answer all of your questions.
Subscribe to our newsletter.
Receive info about products, tutorials and new product releases.
---