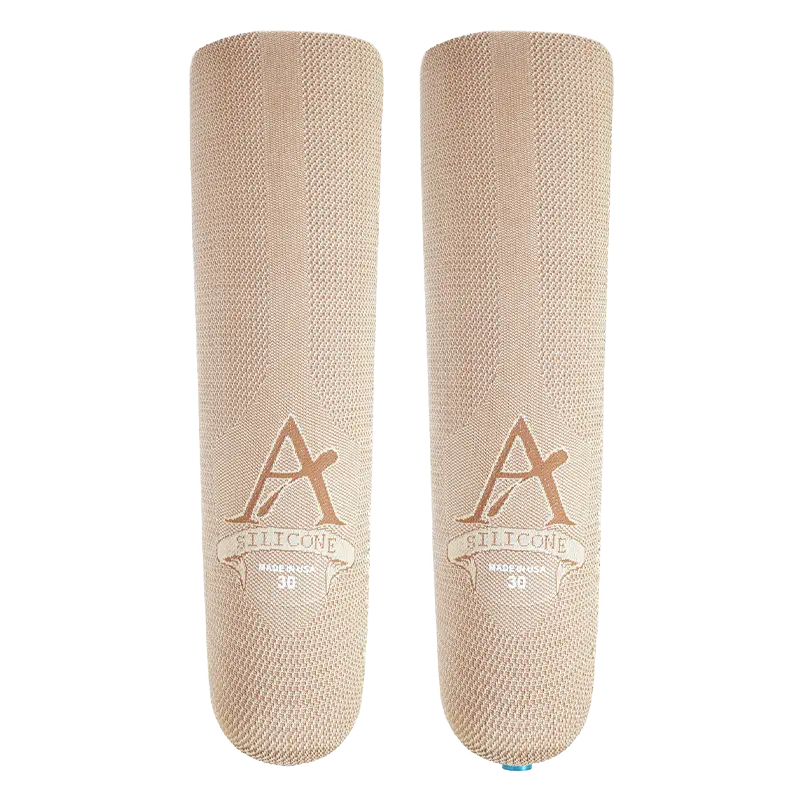 ALPS Silicone Pro Liner
ALPS Silicone Pro is a prosthetic silicone liner. The innovative and hypoallergenic medical grade silicone has a low coefficient of friction, providing a soft adhesion to the skin of the residual limb.
It is indicated for residual limbs with redundant soft tissue and transfemoral amputees. Further recommended to counter perspiration issues and for patients living in hot areas.
The Silicone PRO liner is manufactured with medical grade hypoallergenic silicone.
---
The liner is extremely lightweight and promotes the skin's natural thermoregulation.
---
The surface of the silicone features a low coefficient of static friction (1/5 of regular silicone). Without any additives, it is a hypoallergenic liner, very delicate on the skin.
The locking version features an innovative U matrix to limit vertical stretch while not constraining the residual limb.
---
Does not constrict the residual limb and minimizes the pistoning effect thanks to the innovative U matrix (locking version).
.
The uniform 3mm thickness leads to a lightweight, unrestrictive suspension.
Indicated for delicate skin since it is made of medical grade hypoallergenic silicone.
Minimizes friction to the residual limb due to its low coefficient of friction.
Helps the thermoregulation of the residual limb.

AMPUTATION LEVEL
Above-Knee (AK) and Below-Knee (BK)
ACTIVITY LEVEL
Recommended for K1-K4 activity levels.


SUSPENSION
Cushion | Locking (U-Shaped Reinforcement)

FABRIC | SEAMLESS KNIT
In-house knitted fabric with high quality yarns.
Silicone Pro Liner LSC/LSL Sizing Chart
Measure the circumference of the stump at 6 cm above the distal end.
| MEASURED SIZE (CM) | LOCKING 3.0MM UNIFORM | CUSHION 3.0MM UNIFORM |
| --- | --- | --- |
| 20-22 cm | LSL3.0-20 | LSC3.0-20 |
| 22-24 cm | LSL3.0-22 | LSC3.0-22 |
| 24-26 cm | LSL3.0-24 | LSC3.0-24 |
| 26-28 cm | LSL3.0-26 | LSC3.0-26 |
| 28-30 cm | LSL3.0-28 | LSC3.0-28 |
| 30-32 cm | LSL3.0-30 | LSC3.0-30 |
| 32-35 cm | LSL3.0-32 | LSC3.0-32 |
| 35-38 cm | LSL3.0-35 | LSC3.0-35 |
| 38-41 cm | LSL3.0-38 | LSC3.0-38 |
| 41-44 cm | LSL3.0-41 | LSC3.0-41 |
| 44-47 cm | LSL3.0-44 | LSC3.0-44 |
August 3, 2021
Alps VIP ensures that the socket fits perfectly and that weight is distributed evenly over the surface of the residual limb, significantly reducing some of the most troublesome problems that can arise when contact between the socket and the residual limb is compromised.
June 24, 2021
ALPS offers different types of gels to meet the needs of an increasingly demanding market and to satisfy the specific, individual needs of each patient, according to his or her clinical conditions and lifestyle.
April 19, 2021
Being able to adequately manage volume variations in the residual limb is essential for being able to comfortably and safely wear a prosthesis.
Want to know more?
Our specialists will be happy to answer all of your questions.
Subscribe to our newsletter.
Receive info about products, tutorials and new product releases.
---