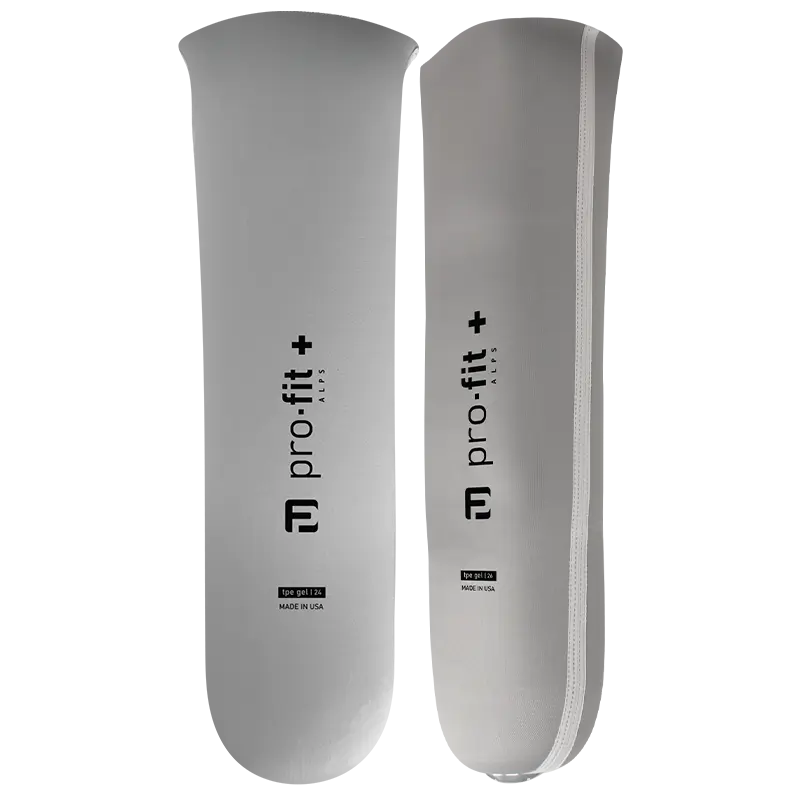 ALPS ProFit Liner
PART # PFGDT/PFGFR
This innovative liner is designed to provide amputees with an unparalleled level of comfort and control. With excellent conformability to the residual limb due to OptiGel technology and an improved distal end encapsulation, the ProFit delivers a secure and snug fit that enhances control, comfort, and safety for the user, allowing for greater confidence in everyday activities.
The new distal end encapsulation allows the user to experience a highly secure fit.
Made with OptiGel to ensure excellent conformability to the residual limb.
---
Premium gray fabric limits vertical pistoning due to its low vertical stretch capabilities.
The locking version features an innovative U-shaped matrix to further limit vertical stretch while not constraining the residual limb.
Conforms to the residual limb flawlessly, ensuring optimal comfort and security.
.
Improves control of the prosthetic and reduces pistoning while still providing superior protection of the residual limb.
The superior adhesion of the OptiGel allows the safe suspension of the prosthetic leg.
Provides a highly secure fit, allowing users to move with ease and confidence.

MATERIAL | OPTIGEL
ALPS® exclusive, white gel that ensures excellent adhesion to the residual limb, making it the optimal choice for higher activity users who demand ultimate comfort, control, and stability.
AMPUTATION LEVEL
Above-Knee (AK) and Below-Knee (BK)
ACTIVITY LEVEL
Recommended for K2-K4 activity levels.

THICKNESS
3mm or 6mm Uniform

SUSPENSION
Cushion | Locking (U-Shaped Matrix)

FABRIC | GRAY
Gray fabric with highly reduced vertical stretch.
ProFit Liner PFGDT/PFGFR Sizing Chart
Measure the circumference of the stump at 6 cm above the distal end.
| MEASURED SIZE (CM) | LOCKING 3MM OR 6MM UNIFORM | CUSHION 3MM OR 6MM UNIFORM |
| --- | --- | --- |
| 20-23 cm | PFGDT20-(3 or 6) | PFGFR20-(3 or 6) |
| 24-25 cm | PFGDT24-(3 or 6) | PFGFR24-(3 or 6) |
| 26-27 cm | PFGDT26-(3 or 6) | PFGFR26-(3 or 6) |
| 28-31 cm | PFGDT28-(3 or 6) | PFGFR28-(3 or 6) |
| 32-37 cm | PFGDT32-(3 or 6) | PFGFR32-(3 or 6) |
| 38-43 cm | PFGDT38-(3 or 6) | PFGFR38-(3 or 6) |
| 44-53 cm | PFGDT44-(3 or 6) | PFGFR44-(3 or 6) |
Want to know more?
Our specialists will be happy to answer all of your questions.
Subscribe to our newsletter.
Receive info about products, tutorials and new product releases.
---