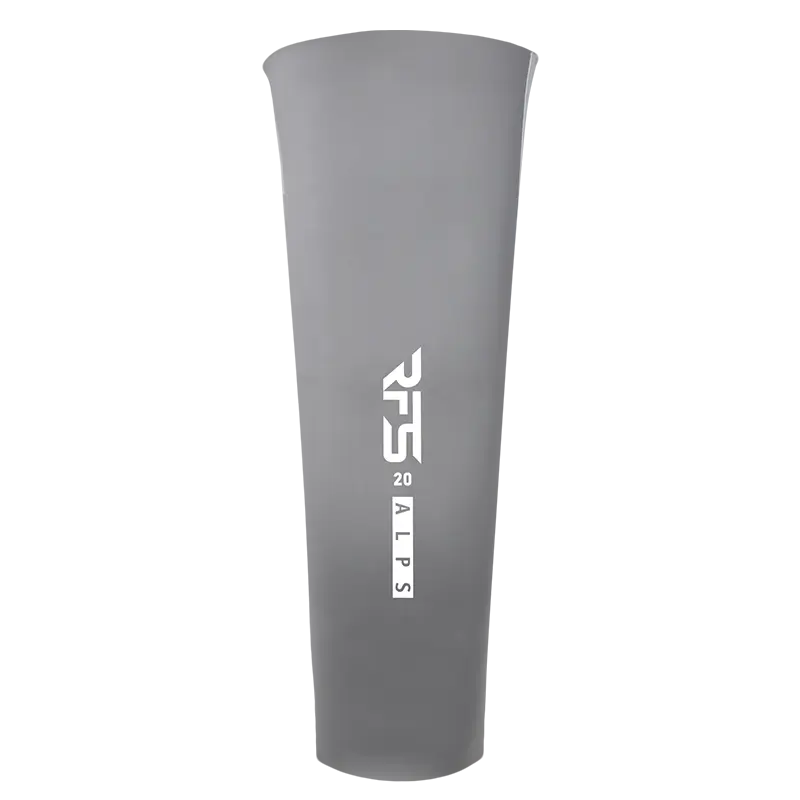 ALPS® Reinforced Sleeve
PART # RFS
With an extra layer of internal fabric, ALPS Reinforced Sleeve is designed to withstand wear and tear, ensuring long-lasting usage. The gray fabric's differential stretch not only provides maximum comfort but also offers stability to the wearer, enabling them to move around with ease and confidence. 
Thanks to the advanced gel technology, the sleeve sticks to the patient's skin, eliminating the need for additional support and preventing the sleeve from rolling down the amputee's limb. Say goodbye to discomfort and inconvenience and hello to a new level of comfort and durability with our latest straight prosthetic sleeve.
Constructed with an internal fabric covering to withstand the wear and tear of daily use.
The OptiGel provides excellent grip and prevents slipping, while the high-performance gray fabric creates a comfortable and snug fit.
.
Provides the maximum comfort, control, and high-performance capabilities required for higher activity-level users.
Provides a secure suspension of the prosthetic leg.

MATERIAL | OPTIGEL
ALPS® exclusive, white gel that ensures excellent adhesion to the residual limb, making it the optimal choice for higher activity users who demand ultimate comfort, control, and stability.

FABRIC | GRAY
Highly reduced vertical stretch
ACTIVITY LEVEL
Recommended for K2-K4 activity levels.

Reinforced Sleeve Sleeve (RFS) Sizing Chart
Measure the circumference of the leg at 10 cm above the center of the knee.
| MEASURED SIZE (CM) | 3MM UNIFORM |
| --- | --- |
| 25-30 cm | RFS20-3G |
| 31-34 cm | RFS24-3G |
| 35-37 cm | RFS26-3G |
| 38-40 cm | RFS28-3G |
| 41-45 cm | RFS32-3G |
| 46-60 cm | RFS38-3G |
| 61-70 cm | RFS44-3G |
Want to know more?
Our specialists will be happy to answer all of your questions.
Subscribe to our newsletter.
Receive info about products, tutorials and new product releases.
---