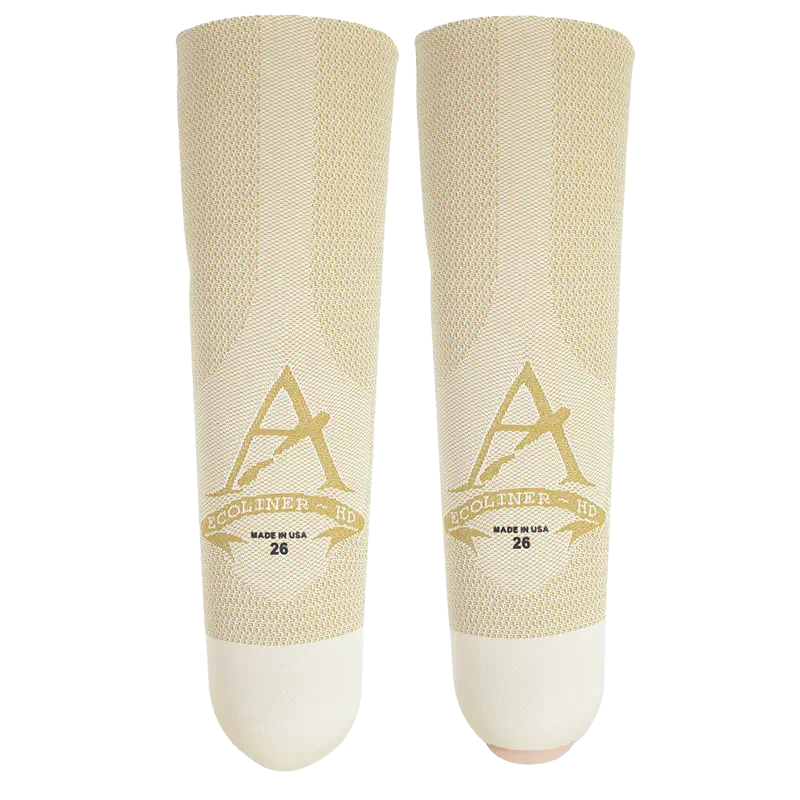 ALPS® Eco Liner™
PART # ECDTHD/ECFRHD
ALPS ECO Liner made of HD Gel is covered with an innovative seamless knitted fabric that ensures high levels of control and stability, improving comfort. It provides the maximum protection of the residual limb even for more active users.
It is indicated for patients with medium to high activity levels, whether with transtibial or transfemoral prostheses, and for those whose residual limbs present redundant soft tissues.
The ALPS ECO Liner features a unique distal construction with reduced stretch to control distal distraction.
The HD Gel relieves the residual limb from vertical and shear forces; at the same time, it makes the liner more compact.
Using less energy to produce, the ECO Liner features a seamless knitted construction with a chic look.
Protects the residual limb thanks to the high capacity of the HD Gel to absorb vertical and shear forces.
Ensures maximum control of the prosthetic leg and minimizes soft tissue movement thanks to the High Density Gel.
Improved comfort due to the effect of the innovative seamless knitted fabric providing areas of varying levels of elasticity.
Does not constrict the residual limb and minimizes the pistoning effect thanks to the innovative U matrix (locking version).

MATERIAL | HD GEL
The relatively firm nature of the HD Gel combines comfort with control and stability. Best for use on highly active patients or those who are transitioning from a silicone liner to a gel liner.
AMPUTATION LEVEL
Above-Knee (AK) and Below-Knee (BK)
ACTIVITY LEVEL
Recommended for K1-K4 activity levels.

THICKNESS
3mm or 6mm Uniform

SUSPENSION
Cushion | Locking (U-Shaped Reinforcement)

FABRIC | SEAMLESS KNIT
In-house fabric with high quality yarns.
Eco Liner ECDTHD/ECFRHD Sizing Chart
Measure the circumference of the stump at 6 cm above the distal end.
| MEASURED SIZE (CM) | LOCKING 3MM OR 6MM | CUSHION 3MM OR 6MM |
| --- | --- | --- |
| 20-23 cm | ECDTHD20-(3 or 6) | ECFRHD20-(3 or 6) |
| 24-25 cm | ECDTHD24-(3 or 6) | ECFRHD24-(3 or 6) |
| 26-27 cm | ECDTHD26-(3 or 6) | ECFRHD26-(3 or 6) |
| 28-31 cm | ECDTHD28-(3 or 6) | ECFRHD28-(3 or 6) |
| 32-37 cm | ECDTHD32-(3 or 6) | ECFRHD32-(3 or 6) |
| 38-43 cm | ECDTHD38-(3 or 6) | ECFRHD38-(3 or 6) |
| 44-53 cm | ECDTHD44-(3 or 6) | ECFRHD44-(3 or 6) |
Want to know more?
Our specialists will be happy to answer all of your questions.
Subscribe to our newsletter.
Receive info about products, tutorials and new product releases.
---