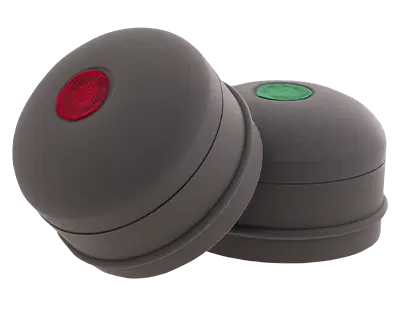 Vacuum Integrated Pump
PART # VIP DH/DL
The ALPS VIP™ is an air expulsion integrated pump for elevated vacuum. Its use provides patients with continuous total contact when donning the prosthesis. This is essential for even weight distribution and to distribute the suspension of the prosthesis over the whole surface of the residual limb.
The elevated vacuum created by the VIP™ stabilizes the residual limb, overcoming all issues connected with the residual limb changing volume during the day.
Elevated vacuum suspension systems act by drawing out air trapped between the socket and liner
---
Achieved by a mechanical or electrical pump
---
Generates a uniform negative pressure within the socket that pulls the liner and patients residual limb towards the inner socket walls
Requires a total-surface-bearing socket and usually used in conjunction with a sealing sleeve
---
Efficiently deals with stump volume fluctuation which in turn leads to improved prosthesis control and comfort.
Reduces the intensity of peaks in pressure on the patient's limbs, improving comfort and providing greater freedom of movement.
Helps preserve residual limb skin health by improving circulation and consequently increasing limb oxygenation.
Quiet, light, and does not affect the cosmetic appearance of the prosthesis.
Easy to install and battery-free.
V.I.P.™ Technical Details
---
Available in 2 different vacuum levels. Choose level based on activity level and skin condition.
LOW VACUUM LEVEL (GREEN)
VIP-DL

Vacuum Level: 5-8in Hg
Diameter: 66mm
Height: 48mm
Weight: 64g
Material: Silicone
HIGH VACUUM LEVEL (RED)
VIP-DH

Vacuum Level: 10-13in Hg
Diameter: 66mm
Height: 48mm
Weight: 75g
Material: Silicone
---
Vacuum Integrated Pump part numbers and recommended accessories.
PART NAME
PART NUMBER
VIP (High Vacuum)
VIP-DH
VIP (Low Vacuum)
VIP-DL
Dummy
VE319-D
Small dummy
VE319-SD
Mounting Plate
VE819-P
Mini Valve (Highly Recommended)
MV-009
Mini Valve Kit
LMV-009
Suggested liners for use with the V.I.P.™
Want to know more?
Our specialists will be happy to answer all of your questions.
Subscribe to our newsletter.
Receive info about products, tutorials and new product releases.
---