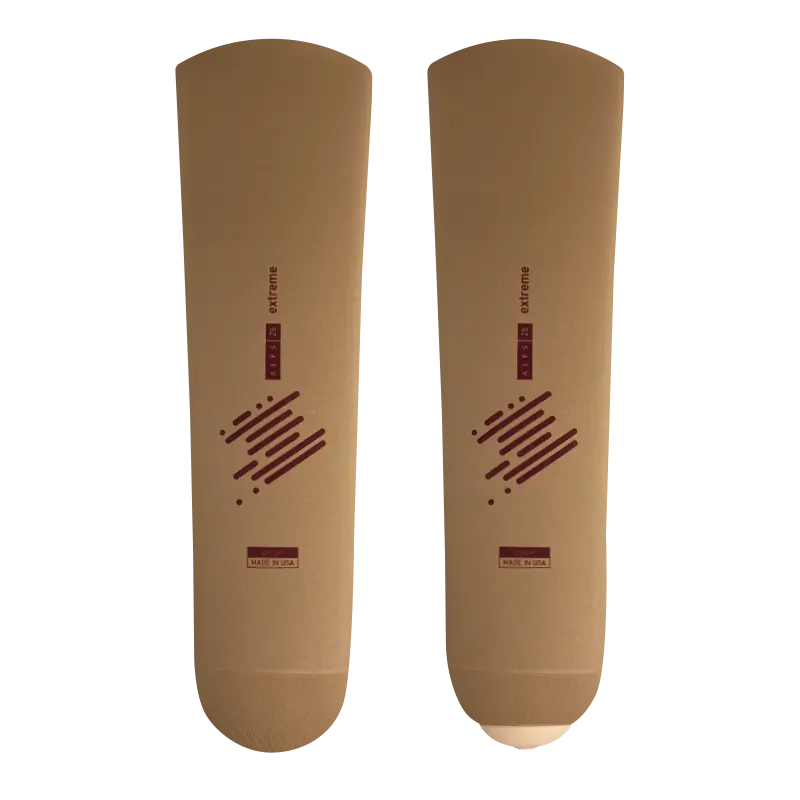 ALPS Extreme™ Liner
PART # AKDT/AKFR
ALPS Extreme Liner is a prosthetic liner made of Grip Gel that ensures excellent adhesion to the residual limb, improving control of the prosthesis without limiting comfort.
It is recommended for patients, both transfemoral and transtibial, with medium activity levels whose skin is in good condition and who aim to maintain a good level of control of the prosthetic leg.
ALPS Extreme prosthetic liner combines softness, strength, and cushioning from our Grip Gel with a fabric with limited vertical stretch.
It improves the control of the prosthetic leg and reduces pistoning, while still providing superior protection of the residual limb.
The superior adhesion of the Grip Gel allows the safe suspension of the prosthetic leg.
---
The result is a comfortable liner, indicated for patients with low and medium activity levels.
---
Protects the residual limb thanks to the high capacity of the Grip Gel to absorb vertical and shear forces.
.
Improves control of the prosthetic leg thanks to the limited vertical stretch of the fabric.
Reduces pistoning thanks to the fabric's limited vertical stretch and the distal matrix (locking version).
Safe suspension of the prosthesis due to the superior adhesive properties of the Grip Gel.

MATERIAL | GRIPGEL
The tackiness of ALPS Grip Gel helps in reducing bunching in the popliteal area. Best for use on amputees with healthy skin tissue.
AMPUTATION LEVEL
Above-Knee (AK) and Below-Knee (BK)
ACTIVITY LEVEL
Recommended for K1-K4 activity levels.

THICKNESS
3mm or 6mm Uniform

SUSPENSION
Cushion | Locking (Reinforced Matrix)

FABRIC | BROWN
Brown fabric with reduced vertical stretch.

Extreme Liner AKDT/AKFR Sizing Chart
Measure the circumference of the stump at 6 cm above the distal end.
| MEASURED SIZE (CM) | LOCKING 3MM OR 6MM UNIFORM | CUSHION 3MM OR 6MM UNIFORM |
| --- | --- | --- |
| 16-19 cm | AKDT16-(3 or 6) | AKFR16-(3 or 6) |
| 20-23 cm | AKDT20-(3 or 6) | AKFR20-(3 or 6) |
| 24-25 cm | AKDT24-(3 or 6) | AKFR24-(3 or 6) |
| 26-27 cm | AKDT26-(3 or 6) | AKFR26-(3 or 6) |
| 28-31 cm | AKDT28-(3 or 6) | AKFR28-(3 or 6) |
| 32-37 cm | AKDT32-(3 or 6) | AKFR32-(3 or 6) |
| 38-43 cm | AKDT38-(3 or 6) | AKFR38-(3 or 6) |
| 44-53 cm | AKDT44-(3 or 6) | AKFR44-(3 or 6) |
Want to know more?
Our specialists will be happy to answer all of your questions.
Subscribe to our newsletter.
Receive info about products, tutorials and new product releases.
---