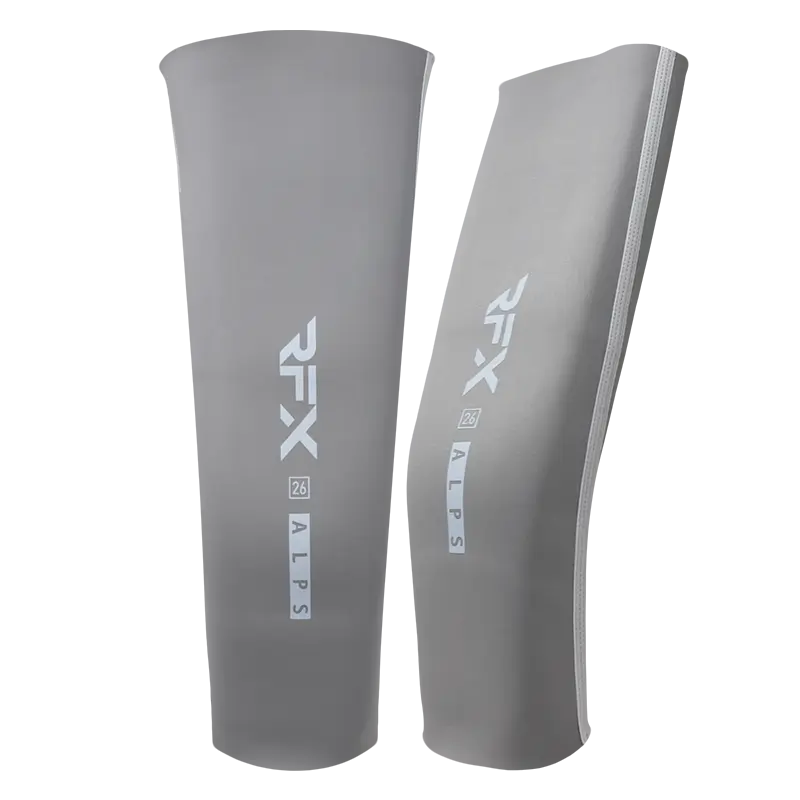 ALPS® Reinforced Flex Sleeve
PART # RFX
ALPS Reinforced Flex Sleeve - a true game-changer in the world of high-performance prosthetic gear. Featuring a blend of gray fabric, OptiGel, and an extra layer of internal fabric, the RFX delivers unparalleled durability, comfort, and control for even the most demanding users. Plus, with its 30° pre-flexion construct, users can say goodbye to bunching and discomfort behind the knee and hello to a new level of mobility and freedom.
The outer covering features our sleek, premium gray fabric.
The added layer of internal fabric provides a more durable option for high-activity users.
The gray fabric combined with OptiGel delivers maximum comfort, control, and high performance.
Ease of knee flexion and reduced bunching in the popliteal.
Provides a secure suspension of the prosthetic leg.
Available in one length that accommodates most users.

MATERIAL | OPTIGEL
ALPS® exclusive, white gel that ensures excellent adhesion to the residual limb, making it the optimal choice for higher activity users who demand ultimate comfort, control, and stability.
ACTIVITY LEVEL
Recommended for K2-K4 activity levels.

Reinforced Flex Sleeve (RFX) Sizing Chart
Measure the circumference of the leg at 10 cm above the center of the knee.
| MEASURED SIZE (CM) | 3MM UNIFORM |
| --- | --- |
| 34-37 cm | RFX20-3G |
| 36-39 cm | RFX23-3G |
| 38-42 cm | RFX26-3G |
| 41-46 cm | RFX29-3G |
| 45-50 cm | RFX32-3G |
Want to know more?
Our specialists will be happy to answer all of your questions.
Subscribe to our newsletter.
Receive info about products, tutorials and new product releases.
---